← Back to portfolio
Fargana Qasimova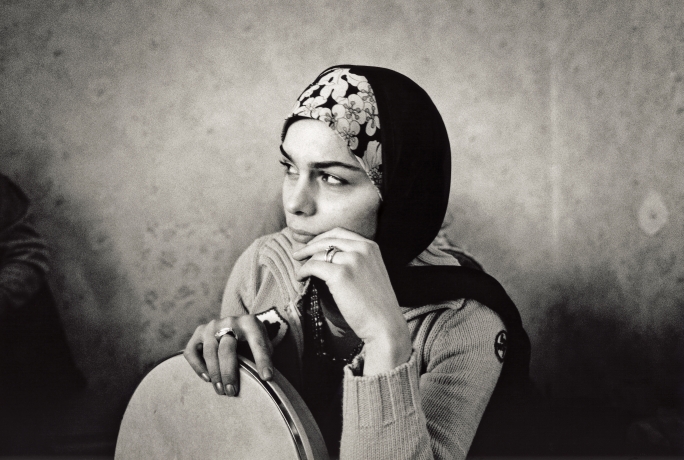 Interview with Azerbaijani mugham musician and performer Fargana Qasimova for The Ladies Network
By Emma-Kate Wilson
Fargana Qasimova is an Azerbaijani mugham musician and performer who has revolutionised the genre. Although she is the daughter of famous mugham singer Alim Qasimov, she has forged a powerful career in her own right, twice receiving the presidential award for developing Azerbaijani music in 2012 and 2014. Read our interview with the multi-talented trailblazer ahead of her performance with her father's ensemble for the Sydney Festival in 2017.
*This interview has been translated from Azerbaijani*
How does the process develop working with your father, both in regards to the music and your relationship? I found a quote likening your relationship to "the master and his pearl," have you felt now that you may teach your father new elements about the music you make together?
Talking about my personal artistic career, it is, of course, easier to work by yourself. When I develop things together with my dad, it is difficult to create, he is a very demanding partner in art. At my age and at the present stage of career development, I have my own things to say.
My father gave me the freedom of artistic creativity, but he also demands a lot. From one side, there are many things that are easier that way, we sing in the same style, and we make a performance program, something unique is happening, that no one else can do.
In my own shows, I sometimes bring in some jazzy elements. Father also did collaborate with jazz musicians, and worked together with rock musicians, as a traditional singer, performing Mugham close to its ancient form. I gave concerts with bass guitarist, piano player, etc. I collaborate with contemporary musicians and am willing to move closer to modern genres.
As of teaching him something new, I don't think there is anything to teach to him, as he is the master, he has all the skills and a very rich erudition.
You and your father's music has revolutionised Mugham. How do you find the response of mixing new and old styles? Does it feel like you are connecting younger generations?
My father has found this new artistic path and took me with him on the journey. I was eight when I first performed in a concert. Since 21 years we tour together as father and daughter. We give a lot of concert in our home country, too.
When Alim brought in those new elements, there was some misunderstanding, not everyone was ready to accept innovations. With time, it sank in. Now, everyone adheres to his approach, all the min venues invite him over to perform. Eurovision, Eurasian games in Baku were happy to host his performances. My father will sing azan from a minaret at the opening ceremony of Islamic Solidarity games this year in Baku. This is ultimate signs of him being accepted as an artist. Baku audiences are always happy to see us perform. Our style is a common path, we create this music together, and it feels great, and the result is unique.
I see new audiences join in, as a result, some people say to us that they listen only to our music, they are not ready to listen to other styles and are thankful that we helped them to fall in love with Mugham. Definitely, young people get interested in this music thanks to our performances.
Also, in Azerbaijan, Mugham is widely supported by the state and several outstanding music enthusiasts. Our first lady, Mehriban Aliyeva, is a fervent supporter of Mugham. She initiated a nationwide effort combining contests, festivals, training. Young students, girls and boys, can sing and compete, there are many talents revealed.
How do you find the contrast of the reception in Australia (and America) to back in your home country? Do you feel like your music can play out a bridging between the east and west in contemporary culture? Diversifying the music industry?
We came here directly from USA, there was Laili and Majnun opera produced. We did perform it with Yo-Yo Ma's Silk Road Ensemble, and now we worked with Mark Morris who created choreography. We gave a dozen of performances in the U.S., all the shows sold out for this modern vision of classical Laili and Majnun story. There is always a big turnout for our shows. We did perform in Australia in quite a remote past, and the audience was very enthusiastic. Music is a common language, no matter the country, this is a way of human communication, it will live long, this medium of interaction between people that are concerts.
How does it feel to generate such an emotion for the audience? Do you find it differs depending on which country you play in? Do you feel it's important for you to bring in your own personal emotions for the show to generate impact?
My father always says that in public performances, it is an exchange of energies, we give people our voice, our rhythm, our energy. And we do receive their energy in return. The talent is a gift of God, and it is up to us to develop it and receive people's energy. In Japan, a lady came to see us after a concert, she was in tears. She told us that she forgot when she cried last. She was saying that she was containing her emotions, and now, she was in tears. In Mexico, we were surprised that people living so far away from Azerbaijan liked our music as if it was their music. They were meeting us in the street, recognising us and asking about the emotions we were expressing. This is happiness.
Did you know being a musician was something you always wanted to do? I know you went on your first tour at 16, being exposed to your father's music must have left a dramatic impression, do you feel as though the music has shaped the person you are today?
It was not a dream to become a musician. I did not have time to understand that I wanted to be a musician. When I was born, my father took me into his music. My mother gave me food and many efforts, but my dad fed me with his music. He educated me as a singer, as a musician. When I was five or six, I could play daf already. I could already perform two or three Mughams. My father sensed that my path was related to music. To some, it only comes at the age of 15-16. When I turned 11, I was already formed as a singer. At the age of 12, my dad decided to enrol me in a music school, and the whole family moved to Baku, the capital of Azerbaijan, to make it possible. My father facilitated my path in music a lot.
As a woman, do you feel as though you can bring something new to Mugham? How you ever felt that your gender has held you back?
It used to be like this, it was difficult in the past, but I must say, it got much easier; women can develop their career without obstacles. In the new Mugham, I am defining my way by myself. It never became an obstacle for me to be a woman. It is not an obstacle. I think women should watch over her name, her image, and her art and talent. It is the same for me, I would say.
Fargana Qasimova on Vimeo: https://vimeo.com/96171560 and Facebook: https://www.facebook.com/ferganeqasimova/
Originally published in The Ladies Network, January 20, 2017: http://theladiesnetwork.com.au/meet-fargana-qasimova-the-azerbaijani-singer-whos-revoloutionised-mugham-music/