← Back to portfolio
Carla McRae AKA The Paper Beast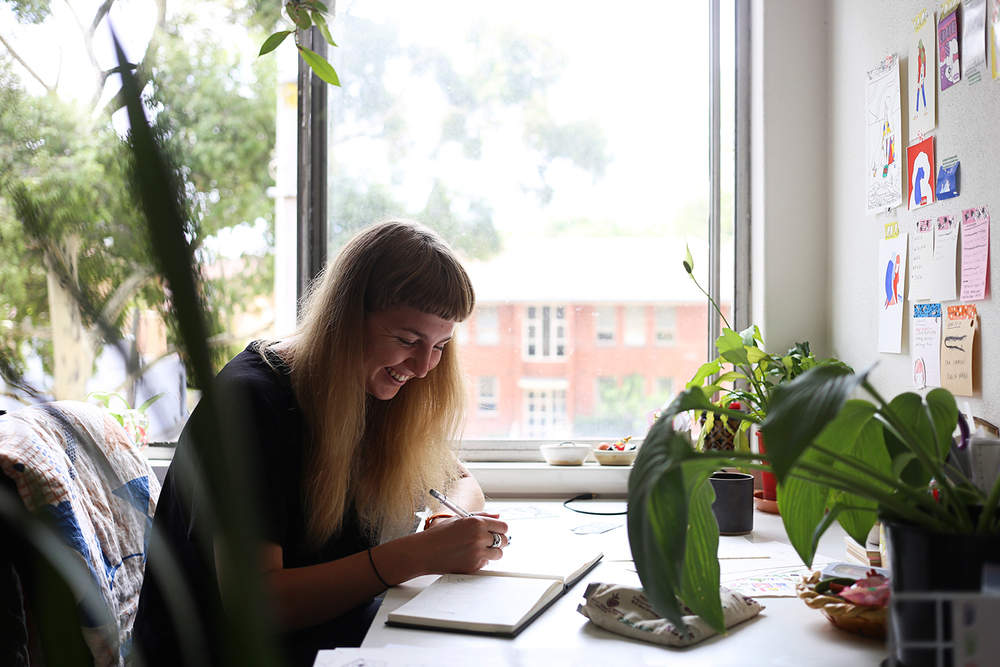 An Interview With Carla McRae
By Emma-Kate Wilson
Carla McRae aka The Paper Beast is an illustrator who re-imagines the whimsical dreamscapes of a simpler life with shapes drifting through our environment. A Sunshine Coast native and educated, McRae now lives and works in Melbourne. Her CV ranges hugely between murals, graphic design, wrapping paper, socks, books, workshops and even a food packaging collaboration.
McRae has been an inspirer since she was little with her vast amount of drawings building up in her bedroom since she did a big purge recently. Her parents commented what a busy girl she had been, which continues today. Checking out her website you can realise the vast amount of projects McRae has been completing. The artist term is still one she adjusts to, yet her income is solely generated through her illustration- rendering her self entirely to the artist job title. McRae comments on the crossing of disciplines between commercial and personal as both a feeding and inspiring process. The commercial can both fund the personal artwork and in turn provide a different source of creativity, giving her the chance to draw things she wouldn't usually.
You can pick those elements looking through at her different works. Her own, inspired by nature and surroundings, generated by "being attentive to the small bits and pieces of living." This quote reminded me of something my old art teacher said: she confided in us that she didn't need drugs in the 60s, colours would just "pop" out at her. At the time the whole class laughed yet as I grow older I find that the artist in you does pull you to the more beautiful, elements in life. Within McRae's paintings, we see an abstraction of figures, bright colours and shapes in which the characters lend towards a simple style yet the composition is simplistic in its minimalism. Carla mused on how inspirational everyday life can be, from signage, buildings, clothing, plants, shadows. These elements appear to float through her canvases or online pieces, into physical walls. The adaptation of life and the experience of going to new cities pull in new inspiration, as McRae tries to capture mental screenshots. The images that photographs can't grasp. Perhaps as our own emotions play into the experiences, the camera lacks the tenure of smell, feelings, touch. It's that replication of fleeting instances within her works which allude to a presence behind the painting.
On reflection, my own personal feelings may have come into my appreciation of McRae's Star Street mural down in the beautiful city of Hobart. As I had utterly fallen in love with the sleepy, luscious Tasmania and Carla's collaboration with David Booth mirrored the mystical setting of Sandy Bay where I was staying. I asked Carla about her partnership with David, and she shared she had wanted to "start painting murals for a while, and as a pal and an artist I looked up to, David gave me some tips for a freebie practice job I took on painting the stairwell of a friend's club. Some time down the track, we started dating and collaborated on our first proper wall together in NSW. He's been super helpful and a great teacher. Our styles are complementary but also differ in nice ways, and as a super bonus, we work really well together too. It's always great to collaborate - coming up with new ideas together you wouldn't have conceived on your own."
McRae shared that the mural in Tasmania was one of her favourite murals as it was both fun and her first trip to Tasmania as well. The mystic of Tasmania seems to continue as through the generation of the mural David and Carla painted a duo who could look like twins, unbeknown to them the lady who owned the heritage-listed house had twin daughters. The characters on the wall even without mirroring each other styles, seem to share the bond of sisters, linking fingers, sharing a secret.
Carla also shared a great experience with mural making with a "project with an all-girls school in Brighton… I held workshops with an amazing group of year 9 art girls and taught them about my drawing processes and painting walls. We designed a big mural together for their own supplies shed and worked through the whole process together from start to finish. For me, it was so exciting and inspiring to see these girls get down and be excited to work and do an amazing job too. It was such a happy experience."
It's exciting to wait and see what the future brings for Carla, but it looks bright and colourful. Just like her art.
Carla McRae's website - https://thepaperbeast.com.au/ and Instagram: @carla_mcrae

Original article published on the The Ladies Network, January 29, 2017: http://theladiesnetwork.com.au...